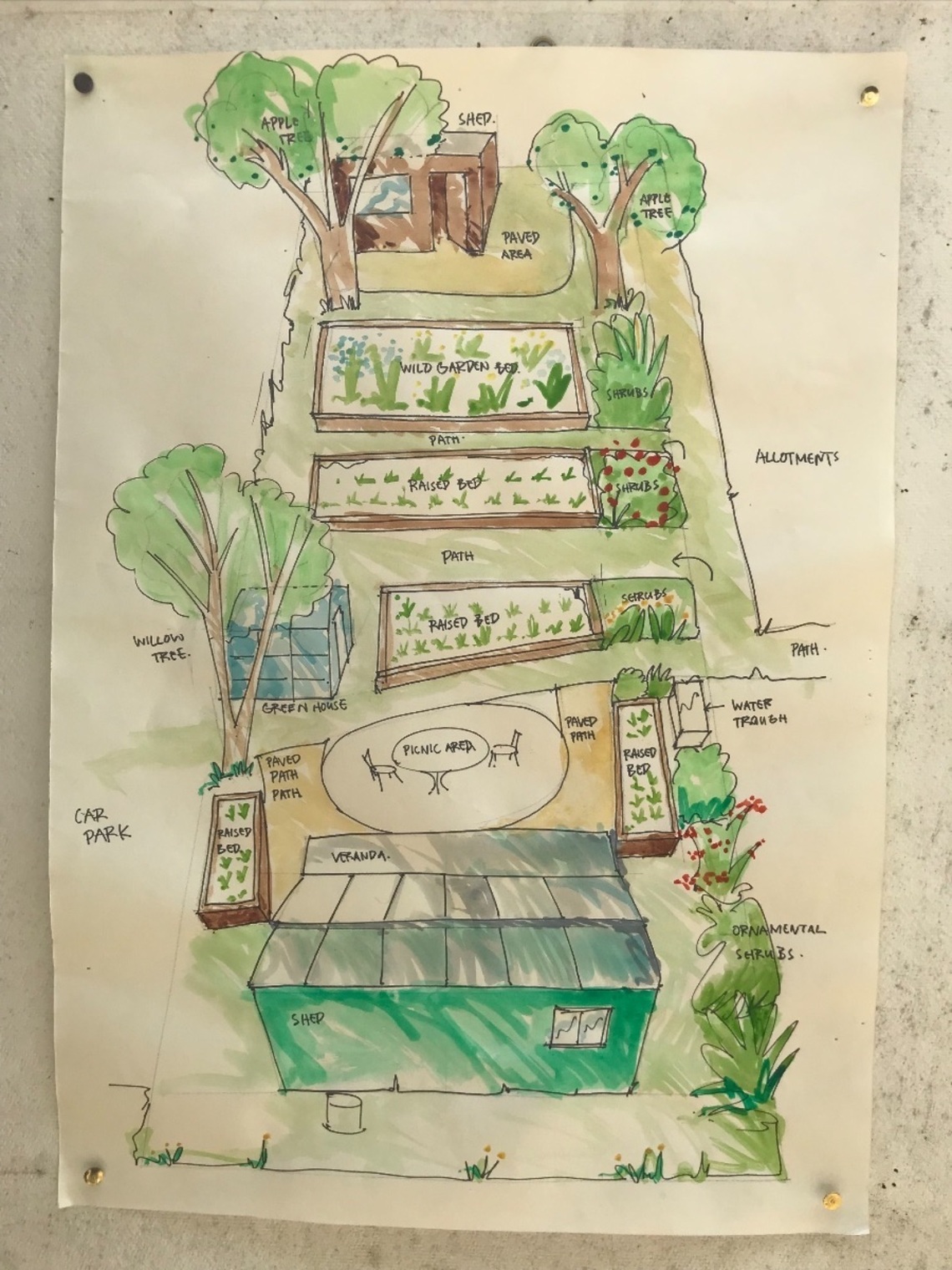 Update on Plot 15 Community Space
Good news, we've received planning permission from Haringey for the new community meeting space on Plot 15 and have submitted a funding application to the Lottery Fund. We will know the outcome in 10 weeks. The sketch here is a first impression of what the plot might look like; lots still to be discussed and refined. We're keen for more people to become involved in taking this exciting project forward and spread the workload. If you would like to help please contact us on info@shepherdshillallotments.co.uk
Plant sale success
A big thank you to everyone who came along to our most successful plant sale yet, and especially to those who made cakes, grew things, and helped on the stalls. We raised a very impressive £1740.00. As in previous years, we donate 50% to the Harington Scheme. The rest goes towards projects to maintain and improve the site.

Making the site more secure
This week a contractor is putting up new improved fencing and gate at the Queen's Wood entrance.

More plants for sale
There are still some plants from the plant sale available, mostly winter veg. These will be on sale in the trading shed for the next few Sundays. Come in and grab a bargain!

Hedgehog Awareness
Last week was hedgehog awareness week. The British Hedgehog Preservation Society has identified some simple things we can all do to help hedgehogs:
Make sure there are CD case sized gaps in boundary fences and walls to allow easy passage (the new fencing at the Queen's Wood entrance will include a hedgehog highway).
Move piles of rubbish to a new site before burning it.
Check areas carefully before mowing or strimming.
Ensure netting is kept at a safe height.
Check compost heaps before digging the fork in.
Consider alternatives to slug pellets that contain the chemical metaldehyde. Hedgehogs are at risk if they eat slugs and snails that have died from eating pellets containing this chemical.
Cover drains or deep holes.
Ensure there is an easy route out of ponds & pools.
Is your hedge neighbour-friendly?
Please note that the Tenancy Agreement states that it is your responsibility to maintain any hedges and fences on your plot so as not to cast shade on adjoining plots. We have had some complaints about overgrown hedges. If you think your neighbour's hedge is encroaching on yours and feel unable to talk with them about it contact us on info@shepherdshillallotments.co.uk

Co-workers and joint tenants
If you have someone else working regularly on your plot, you must apply for them to become a co-worker or joint tenant. Please refer to the Council's guidance on this, available on the site website. Joint tenants can have their own key; if someone is a co-worker you must be there when they are working on your plot and they should not have a key. Please make sure you comply with regulations.

And don't forget, your plot must be clearly numbered.

Next working party dates
These continue to be on the second Sunday of the month during the summer. Refreshments provided.
Sunday 9th June 11.00 – 1.00pm. Working on path maintenance. We need as many people as possible to come and help. Meet at the trading shed.
Sunday 14th July 11.00 – 1.00pm – Weeding of herbaceous border by main gate. Bring gloves, trowel and clippers.

Yours
Julie, Annie, Trevor, Julia, Juliet, Gary, Jill, Ian, Lynn (co-opted - Trading Shed Manager) and Nick (co-opted - Treasurer).
The Site Committee, May 2019
12:13, 17 May 2019 by Website Administrator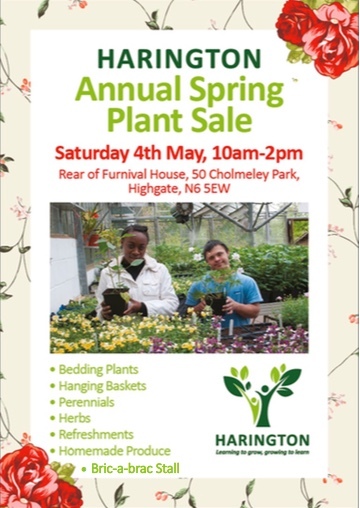 Harington plant sale
The Harington annual spring plant sale takes place on Saturday 4th May. This is a great opportunity to pick up a range of plants. It's also an opportunity to visit the Scheme, which SHA supports through regular donations from our own plant sales, and are now looking to extend our links. This week two committee members visited Harington to discuss ideas for how SHA might become more involved in their work – more information to follow shortly.

Changes in the Trading shed
After a good number of years in the roles of Trading Shed Coordinator and Trading Manager, Lynn and Julia have decided it's time for a change. They will be standing down after the last delivery of the year in September/October. We will all miss them greatly as they have done a brilliant job, but it is time for fresh faces to come forward with new energy and ideas. Could that be you?

The two roles are distinct, but cooperation is essential to keep the Trading Shed running smoothly:
Trading Shed Coordinator, core tasks include: Coordinating the volunteers who work in the Trading Shed, recruiting and inducting new volunteers, ensuring stock is put out for sale and that it is clearly priced.
Trading Manager, cores tasks include: Ordering stock, arranging deliveries, recruiting and coordinating volunteers to unload, maintaining records.

Julia and Lynn have kindly offered an opportunity for shadowing them over the summer so you can find out how it is all done.
If you are interested in the roles or having a further chat about what is involved please email info@shepeherdshillallotments.co.uk

Are you looking for a polytunnel?

Garry Doyland is looking for a home for a polytunnel which is complete and in good condition. Only one of the two doors opens. Size is 3m by 2m. If you are interested please contact Garry (plot 102A)

Are you missing a rake, spade or round white table?

It seems that the partying intruders who have been on the site recently have moved a few things around from plot to plot and a round white table, spade and rake have appeared around plots 36, 37, 38. Are they yours? If so, contact info@shepherdshillallotments.co.uk Also, Jo (plot 36) is missing a low squarish plastic stool if anyone has found it.

Advance notice
Please note that on the day of our plant sale (Sunday 12th May) there will be NO PARKING at any time in front of the trading shed.

Yours
Julie, Annie, Trevor, Julia, Juliet, Gary, Jill, Ian, Lynn (co-opted - Trading Shed Manager) and Nick (co-opted - Treasurer).
The Site Committee, April 2019
12:58, 26 Apr 2019 by Website Administrator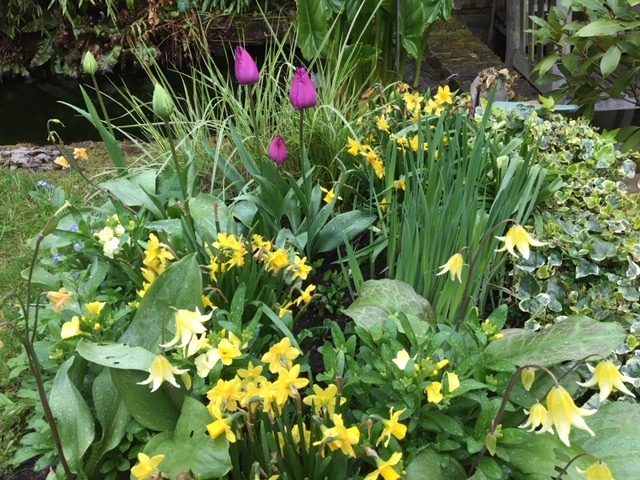 Help needed

Our next site maintenance working party is this Sunday, 14th April at 11.00am. We will be clearing sections of the perimeter behind plots 87A and 90 in preparation for new fencing, which is urgently needed to improve security of the site. Please come along, with clippers, gloves, etc. Meet at the Trading Shed. All help welcomed.

Get involved with developing our new community plot 15

Come along on Sunday 28th April 11.00am to an ideas gathering session for the development of Plot 15. Contribute your ideas on the landscaping of the plot, and help with a bit of light weeding and making the most of the plants that are now growing there.

Annual Plant Sale

Our ever popular annual plant sale will take place on Sunday 12th May at 2pm. Put the date in your diary now! More details about the day and how you can help to follow soon.

Summer outing

Our summer outing to Great Dixter has proved very popular and all tickets are now SOLD OUT. You can add your name to the waiting list in the Trading Shed.

A message from Highgate Horticultural Society

Highgate Horticultural Society is celebrating its 160th Anniversary this year. The dates of our three shows for 2019 are Spring 13th April, Summer 13th July and Autumn 7th September, all held in the lovely setting of the URC Pond Square Chapel. We are keen to encourage more members to exhibit at our shows so if you are interested we would like to invite Shepherd Hill Allotment holders to have a taste of exhibiting (and maybe catching the bug!) without having to join the Society for their first show.

Please come and join us this Saturday 13 April 2.00 - 5.00 and have a look and enjoy the displays. We'll have tea and delicious cakes, a raffle, produce stall and plants for sale and an auction.

More information on the categories for our shows and how to enter are on our website www.highgatehorticulturalsociety.org.uk
or you can email or call our Secretary info@highgatehorticulturalsociety.org.uk or 020 7263 6831. Even if you don't exhibit, you could join the HHS – information is on the website and there are leaflets in the Trading Shed.

Yours
Julie, Annie, Trevor, Julia, Juliet, Gary, Jill, Ian, Lynn (co-opted - Trading Shed Manager) and Nick (co-opted - Treasurer).
The Site Committee, April 2019
15:07, 09 Apr 2019 by Website Administrator

Archive
Use the calendar or list of months to view entries made on those dates.
| S | M | T | W | T | F | S |
| --- | --- | --- | --- | --- | --- | --- |
| | | | | | | 1 |
| 2 | 3 | 4 | 5 | 6 | 7 | 8 |
| 9 | 10 | 11 | 12 | 13 | 14 | 15 |
| 16 | 17 | 18 | 19 | 20 | 21 | 22 |
| 23 | 24 | 25 | 26 | 27 | 28 | 29 |
| 30 | | | | | | |