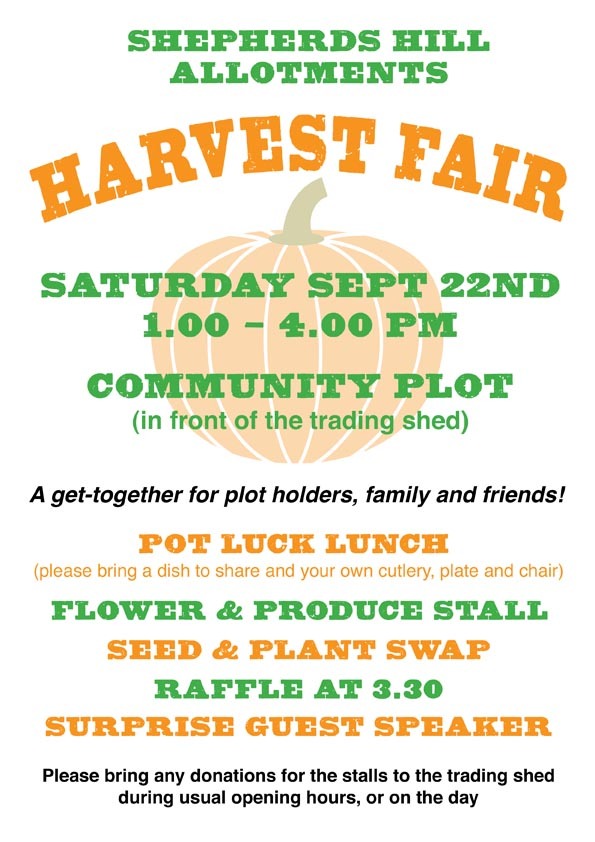 11:09, 15 Sep 2018 by Website Administrator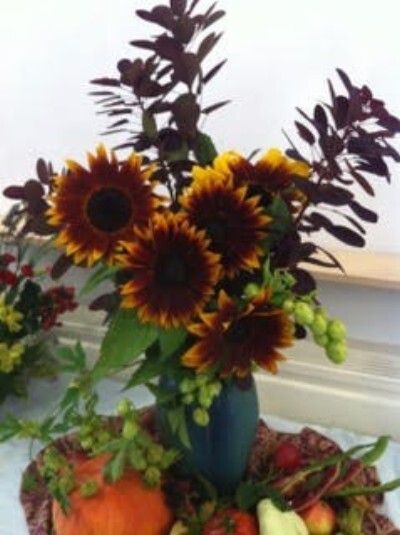 Dear Plot Holders
1) First. A Huge Thank You To all those ( Ian, Garry, Eugene, John, Esther, Tom, Jill, Mary, Sean and Annie-do write in if you think I've missed anyone) for pitching up on a wet Sunday 26th Aug. and helping with the next stage of clearing of Plot 15. We'll warn everyone of the date of the big bonfire which, of course, will be after 30th September.
2) Harvest Fair/lunch/get together in front of trading shed.
Saturday 22nd September starting at 1pm.
For plot holders, their families and friends.
- It's a 'pot luck' event so bring a dish to share.
- Please bring your own plate, cutlery and chair. We will provide tables under gazebos. We'll also provide teas, coffees and juices
There'll also be
- A Produce Stall* selling cakes, allotment produce and preserves. Please donate what you can to that.
- A Raffle * please bring donations for this to the trading shed during Sunday openings on 9th and 16th.
- A Seed and Plant Swap stall. So bring what you have for that. No money changes hands on this stall.
- Perhaps a surprise guest speaker??
*Proceeds from these will go to support general allotment projects.
3) Someone has deposited a number of large sacks full of soil inside the Wood Vale entrance. Its been there a while. Could the person responsible please remove it.
And while we're on this subject, can we remind EVERYONE again that if you are to have a sizeable delivery to the Site you must contact the Committee before hand to avoid clash of dates.
4) Excess fruit and veg?
Gary welcomes your excess fruit, veg and flowers for his stall in the Sunday farmers market where he raises money for the Harington Scheme. If you have any excess to spare please leave it on a Friday or Saturday at his plot 108b, or call him on 07899022455
5) 2018 AGM of the Shepherds Hill Allotments Association will be held upstairs at the Victoria Stakes pub on 15th November at 7pm.
All most welcome. We'll keep you posted and send out paperwork in October.
Yours
Julie, Annie, Trevor, Julia, Lynn, Juliet, Gary, Esther and Ian
The Site Committee September 2018
P.S Don't forget
to look at the website from time to time. We put up dates and notices there.
11:10, 06 Sep 2018 by Website Administrator

1) Potato Orders
Orders for seed potatoes are now being taken, in the Trading Shed, for delivery in February 2019.
For details please go to the Trading Shed page on the site website; https://www.shepherdshillallotments.co.uk/trading-shed/ or see the trading shed notice board.

2) Calling Volunteers. We'd love you to come along to do a bit more clearing on Plot 15 on Sunday 26th August for whatever amount of time you can offer between 10am and 1pm. Please bring any chopping and sawing tools and your gloves. Refreshments will be served between 11 and 1.

3)Save the date. 22nd September 2018 from 1pm
Shepherds Hill Allotments Harvest Fair
Bring- and-share-lunch for plot holders, family and friends
Produce stalls including cakes and preserves
Seed swap
Raffle
– this will also be an opportunity for us to share some more ideas/plans for the plot 15 building.
We'll send out more details nearer the time

4) LOCAL SHOWS
-Saturday 1st September- Muswell Hill and District Horticultural Society Autumn Flower Show and Plant Sale
North Bank, Pages Lane N10. Doors open 3.00pm
Open to all exhibitors.
-Saturday 8th September- Highgate Horticultural Society Autumn Show.
The United Reformed Church, Pond Square, Highgate
Doors open 2pm
-Saturday 15th September - Tottenham Flower and Produce Show, Lordship Hub, Lordship Rec
Off Higham Road, Tottenham
London, N17 6NU
(Vehicle entrance off Adams Road, N17 6HE)
1-5pm

5) Have you lost an 18v Bosch battery for an appliance? It was found by the Wood Vale gate. Call at the Trading Shed to retrieve it.
6)And finally.....Is your plot becoming too much to keep up? If you are finding your plot too hard to work on or too hard to get to- you may have moved further away- you might consider relinquishing it before it gets into too bad a state. We have a huge waiting list of eager gardeners.
If you are in this position do email us at info@shepherdshillallotments.co.uk

Best wishes
The Site Committee: Annie, Ian, Julie, Trevor, Juliet, Gary, Julia, Esther and Lynn
16:24, 12 Aug 2018 by Website Administrator

Archive
Use the calendar or list of months to view entries made on those dates.
| S | M | T | W | T | F | S |
| --- | --- | --- | --- | --- | --- | --- |
| | | | | 1 | 2 | 3 |
| 4 | 5 | 6 | 7 | 8 | 9 | 10 |
| 11 | 12 | 13 | 14 | 15 | 16 | 17 |
| 18 | 19 | 20 | 21 | 22 | 23 | 24 |
| 25 | 26 | 27 | 28 | 29 | 30 | |